Big K.R.I.T. Announces 31-Day North American Tour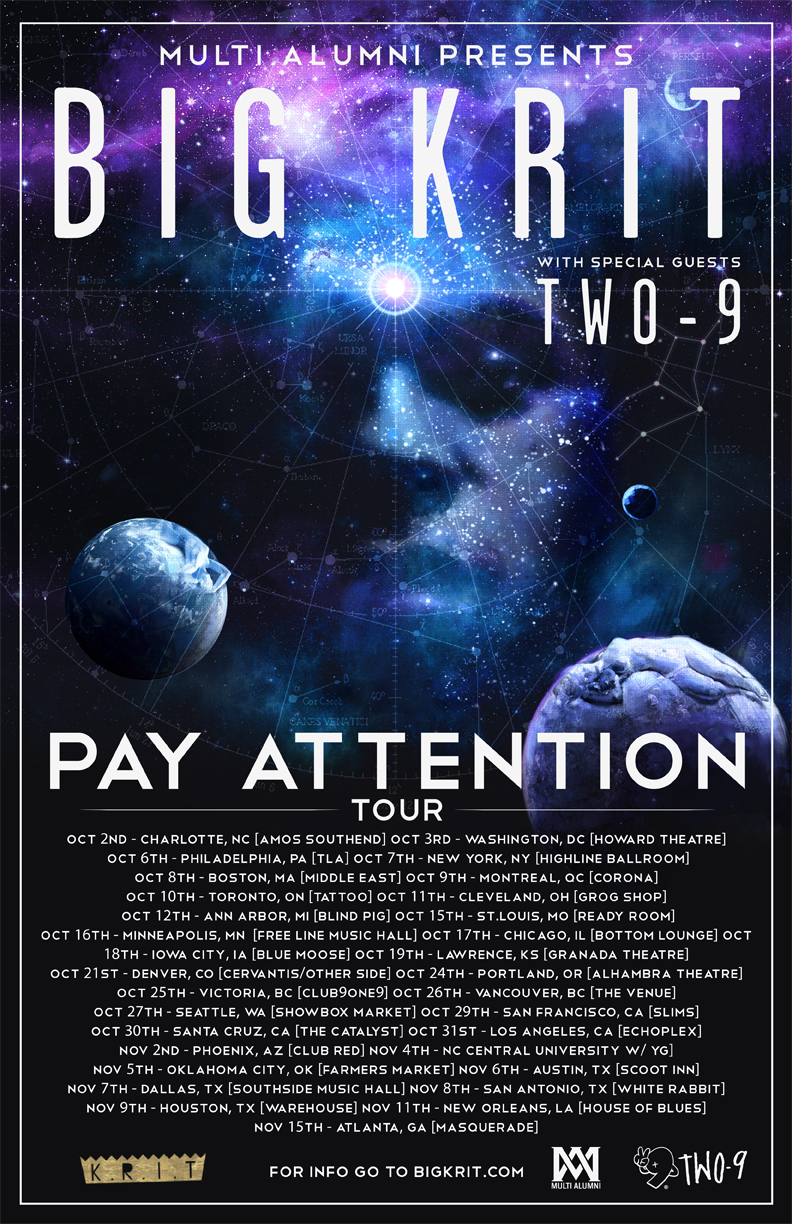 TICKETS FOR BIG K.R.I.T.'S NORTH AMERICAN TOUR GO ON SALE TOMORROW!!
AUGUST 14, 2014, NEW YORK – This year Big K.R.I.T has been paving the way for the release of his highly anticipated sophomore studio album, Cadillactica. K.R.I.T. is continuing to reeve up excitement for the release, and showcase his unique style of production and rhyming abilities, with the announcement that tickets for his new North American Pay Attention Tour will go on sale tomorrow, August 15, 2014. Tickets will be available for purchase through Ticketmaster.
The 31-day tour will start off in Charlotte, NC on October 2nd and end in Atlanta, GA on November 15th, 2014. Fans across the United States, as well as in Canada, will get the chance to witness some of K.R.I.T.'s newest material and past classics. They will also get the opportunity to catch performances by Atlanta artists' Two 9 as they open for K.R.I.T.
"I am excited to get on the road," said K.R.I.T. "This tour will give fans a little taste of what is to come. I am traveling with a message, a message about our culture-where we were and what we have come to. I want to make sure people are paying attention to what is happening in their lives and in hip-hop today."
This announcement comes just after the release of his first official single, "Pay Attention," off Cadillactica. The single debuted last month to rave reviews. With Rico Love providing a feature and production by Jim Jonsin, the new track was a perfect way to showcase K.R.I.T.'s versatility and provide contrast to previous works. This is only the beginning, however. With this new album K.R.I.T. is out for blood. He plans to solidify his status as a reigning king of southern rap while he takes music listeners on a journey through sound and lyricism they will not soon forget.
The next king is ready to take up his crown. Make sure you are there to witness it. Check out the list below for concert dates and cities.
To listen to "Pay Attention" visit: https://itunes.apple.com/us/album/pay-attention-feat.-rico-love/id902754425
To learn more about K.R.I.T.'s latest releases and concert info follow him on his social:
Website: http://bigkrit.com/
Twitter: https://twitter.com/BIGKRIT
Facebook: https://www.facebook.com/BigKritMusic
Soundcloud: https://soundcloud.com/bigkrit
CONCERT DATES
Thu-Oct-02 | CHARLOTTE, NC | AMOS SOUTHEND
Fri-Oct-03 | WASHINGTON, DC | HOWARD THEATER
Mon-Oct-06 | PHILADELPHIA, | PA TLA
Tue-Oct-07 | NEW YORK, NY | HIGHLINE BALLROOM
Wed-Oct-08 | BOSTON, MA | MIDDLE EAST
Thu-Oct-09 | MONTREAL, | QUEBEC | LE CINQ
Fri-Oct-10 | TORONTO, | ONTARIO | TATOO
Sat-Oct-11 | CLEVELAND, OH | GROG SHOP
Sun-Oct-12 | ANN ARBOR, | MI BLIND PIG
Wed-Oct-15 | ST. LOUIS, MO | READY ROOM
Thu-Oct-16 | MINNEAPOLIS, MN | FINE LINE MUSIC HALL
Fri-Oct-17 | CHICAGO, IL | BOTTOM LOUNGE
Sat-Oct-18 | IOWA CITY, IA | BLUE MOOSE
Sun-Oct-19 | LAWRENCE, KS | GRANADA THEATER
Tue-Oct-21 | DENVER, CO | CERVANTIS
Fri-Oct-24 | PORTLAND, OR | ALHAMBRA THEATER
Sat-Oct-25 | VICTORIA, BC | CLUB 9ONE9
Sun-Oct-26 | VANCOUVER, BC | THE VENUE
Mon-Oct-27 | SEATTLE, WA | SHOWBOX MARKET
Wed-Oct-29 | SAN FRANCISCO, CA | SLIMS
Thu-Oct-30 | SANTA CRUZ, CA | THE CATALYST
Fri-Oct-31 | LOS ANGELES, CA | ECHOPLEX
Sun-Nov-02 | PHOENIX, AZ | CLUB RED
Tue-Nov-04 | DURHAM, NC | NC Central University w/ YG
Wed-Nov-05 | OKLAHOMA CITY, OK | FARMERS MARKET
Thu-Nov-06 | AUSTIN, TX | SCOOT INN
Fri-Nov-07 | DALLAS, TX | SOUTHSIDE MUSIC HALL
Sat-Nov-08 | SAN ANTONIO, TX | WHITE RABBIT
Sun-Nov-09 | HOUSTON, TX | WAREHOUSE
Tue-Nov-11 | NEW ORLEANS, LA | HOUSE OF BLUES
Sat-Nov-15 | ATLANTA, GA | MASQUERADE